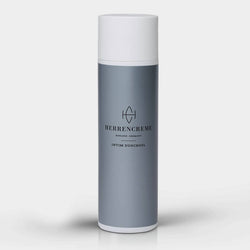 Intim Shower Gel
200 ml mild natural cosmetics in a practical dispenser. Specially developed by urologist for the sensitive intimate area of men. Free from PEGs. Awarded the grade "very good" by Dermatest.
For the real gentleman.
The shower gel gently cleanses the skin. Also protects the natural fat layer and the natural skin flora. Therefore suitable for daily cleaning. Suitable not only for the intimate area, but also for the whole body.
Ingredients: Aqua, Coco-Glucoside, Lactic Acid, Parfum, Alcohol, Sodium Cocoyl Glutamate, Glycerin, Decyl Glucoside, Xanthan Gum, Inulin, CA Glyceryl Oleate, Citronellol.
Do you have any questions? Please feel free to contact our customer service by mail info@herren-creme.com or use our contact form.
All items available from stock are mostly shipped within 24 hours. Depending on the payment option, shipping may take place later. If this period falls on a Sunday or holiday, the shipment will take place on the following business day. If you have ordered larger quantities of an item than are available in stock, the order will usually be delivered within a week. If there are shortages or longer delivery times we will inform you immediately.