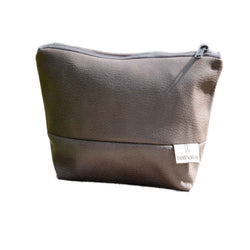 DAMEN KOSMETIKTASCHE
DAMEN KOSMETIKTASCHE
Ab sofort haben Lippenstift, Mascara und Handcreme ein neues Zuhause, in dem sie sich pudelwohl fühlen. Nicht zu groß, nicht zu klein, sondern perfekt proportioniert, damit du die wichtigsten Kosmetiksachen immer dabei und griffbereit hast. Kurz die Lippen nachziehen, etwas Rouge nachlegen – alles kein Problem mit diesem praktischen Täschchen. 
Optisch punktet sie mit ihrem cleanen, schlichten Design. Von innen ist sie übrigens ganz bewusst mit Stoff ausgeschlagen. So kannst du die hübsche Tasche so oft in der Waschmaschine waschen, wie es nötig ist. Wenn deine Creme oder der Lippenstift also mal die Hülle verliert oder sich die Puderdose versehentlich öffnet – kein Problem. Die kleine Kosmetiktasche schließt du mit einem Reißverschluss und alles bleibt da, wo es hingehört. Das lästige Suchen nach deinen Beautytools in deinen Handtaschen gehört ab sofort der Vergangenheit an.
NACHHALTIGER LEDERFASERSTOFF:
Alle Taschen werden mit dem einzigartigen, hochwertigen Lederfaserstoff (40% Echtlederanteil) hergestellt.
• extrem robust
• sehr leicht
• schmutzbeständig
• hochwertige Optik
• angenehme Haptik
• Recyclingprodukt
Größe: ca. 27cm x 14cm x 5cm

Farbe: Braun
Do you have any questions? Please feel free to contact our customer service by mail info@herren-creme.com or use our contact form.
All items available from stock are mostly shipped within 24 hours. Depending on the payment option, shipping may take place later. If this period falls on a Sunday or holiday, the shipment will take place on the following business day. If you have ordered larger quantities of an item than are available in stock, the order will usually be delivered within a week. If there are shortages or longer delivery times we will inform you immediately.